African Burial Ground Excavation Site
Overview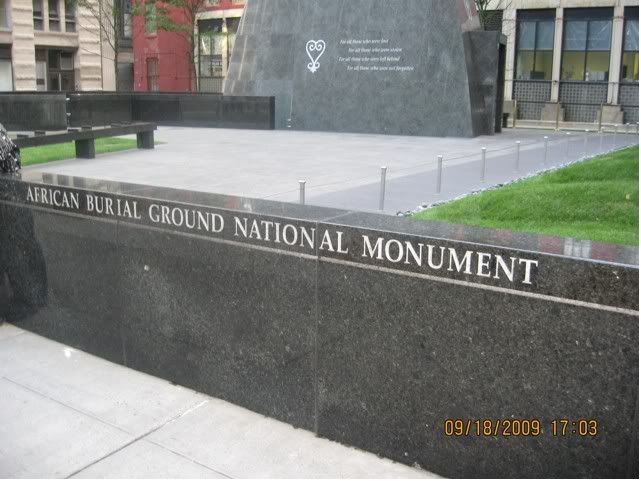 THEN:
The cemetery, which lay outside the City proper, beyond a wall that once stretched from river to river along what is now Chambers Street, was also the final resting place for Indians (they too were held as slaves), paupers, and military prisoners. When the cemetery was closed in the 1790s, after perhaps a hundred years of use, a new burial ground for blacks was opened on Chrystie Street, and the identifiable bodies from this site were disinterred and reburied. Like the Negro Cemetery on Church Street, on land which was part of Trinity Parish, it is no longer extant. But then neither are dozens of graveyards established by white congregations.
NOW:
The best-known archeological site in the City, saved when black activists brought a federal building project to a halt in 1991, this six-acre plot is thought to have held the remains of as many as twenty thousand black men, women, and children who lived, and died, in colonial New York. In the three and a half centuries since Manhattan was settled by the white man, not just cemeteries but also hills, forests, and farms have all disappeared, banished by New York's passion to cram more and more people into its tight little island.
Source: Six Heritage Tours of the Lower East Side by Ruth Limmer in collaboration with NYC's Lower East Side Tenement Museum
Javascript is required to view this map.
Connections
Compare related sites, explore the related maps, find out about volunteering, how to get here and more. Soon, you will find ways to share this map here, too.
Every site using the same primary Icon on Open Green Map is automatically linked here. You can compare different approaches and solutions on this map and others around the world.
Choose a connections category from the list on the left.
Impacts
No impacts have been left for this site yet - be the first!