4716 N Sheridan Rd
Chicago
IL
Uptown Buyback Center and Recycling Station
このサイトについて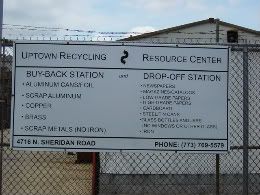 Uptown recycling center is a branch of the resource center, which is a non-profit organization that has demonstrated innovative techniques for recycling and reusing material. This recycling center is for everyone in and out of the uptown community to bring their recycleble items that are either used up or taking space in their homes. The center accepts aluminum and steel cans; brown, clear, and green glass bottles and jars; newspaper; and cardboard.They employ people living near the recycling facility and turn more than 99% of what they pick up into new products.
(773) 821-1351
Javascript is required to view this map.
コネクション
ここでは、関連したサイトと比較、地図の探索、ボランティアについてやこのサイトへの行きかたなどがわかります。
このグリーンサイトと同じ第一アイコンを指定しているサイトは自動的にここに表示されます。ここに表示されているほかのサイトを見て比較してみよう。
Choose a connections category from the list on the left.
インパクト
まだ誰からもインパクトは報告されていません!一番目になりませんか?