Arche Noah - Garten der Sinne
Übersicht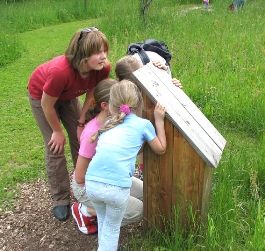 Der "Arche Noah Garten der Sinne" wurde als ökumenisches Gemeinschaftsprojekt der evangelischen und katholischen Kirchengemeinden Dinkelsbühl mit der Trägerschaft der Stadt Dinkelsbühl unter Federführung des Bund Naturschutz entwickelt. Auf dem Gelände einer Streuobstwiese kann man an 20 Stationen die Natur sehen, riechen und fühlen. Der an der Stadtmauer von Dinkelsbühl gelegene Garten bietet eine abwechslungsreiche Mischung von Biotop-Bausteinen und Objekten der Sinneswahrnehmung.
Führungen nach Voranmeldung (Klaus Eberhardt, Tel. 09853 1855)
Die Anlage ist gut zu Fuß von den Parkplätzen am Hallenbad und dem Altstadtparkplatz "Alte Promenade" am Segringer Tor erreichbar.
Ganzjährig öffentlich zugänglich
09851 902440
Javascript is required to view this map.
Verbindungen
Compare related sites, explore the related maps, find out about volunteering, how to get here and more. Soon, you will find ways to share this map here, too.
Every site using the same primary Icon on Open Green Map is automatically linked here. You can compare different approaches and solutions on this map and others around the world.
Andere Orte auf der Karte
Ähnliche Orte weltweit
Choose a connections category from the list on the left.
Auswirkungen
No impacts have been left for this site yet - be the first!