Schreinergasse 10
Beyerberg
91725
Hortus Insectorum
Übersicht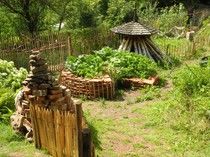 Der Beginn der Verwandlung aus einer Fettwiese (mit Löwenzahn, Gras und sonst nichts) zum Paradies für die bedrohte Natur war das Frühjahr 2007. Nunmehr ist der 'Garten der Insekten' ein 7.000 qm großes Refugium für Schmetterlinge und blütenbestäubende Wildbienen, das alle wichtigen Bestandteile eines ökologischen Naturgartens beinhaltet (Streuobstwiese mit 30 verschieden Blumen, 28.000 Blumenzwiebeln, Steingärten, Hecken, Gartenteiche ohne Fische usw.). Schönheit, Vielfalt und Nutzen ergeben eine einzigartige Symbiose und zeigen Wege auf, mehr Natur in den eigenen Garten zu holen.
Besichtigungen sind inklusive Führung durch einen zertifizierten Natur- und Landschaftsführer möglich. Führungen, auch zu bestimmten Themen, finden regelmäßig statt (Führungstermine auf der Website)
Ganzjährig Führungen nach Voranmeldung
01577 3209935
Javascript is required to view this map.
Verbindungen
Compare related sites, explore the related maps, find out about volunteering, how to get here and more. Soon, you will find ways to share this map here, too.
Every site using the same primary Icon on Open Green Map is automatically linked here. You can compare different approaches and solutions on this map and others around the world.
Andere Orte auf der Karte
Ähnliche Orte weltweit
Choose a connections category from the list on the left.
Auswirkungen
No impacts have been left for this site yet - be the first!