Irsingen 18
Gerolfingen
91726
Marme-Lädle
Übersicht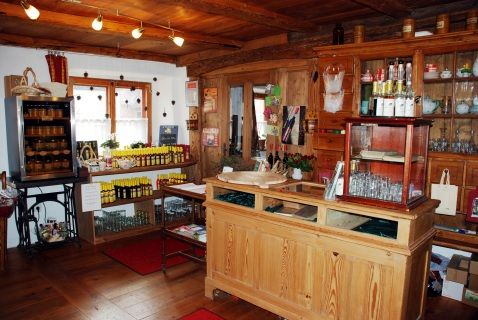 Produkte ausschließlich aus eigener Produktion: Fruchtaufstriche, Pestos, Sirups, Liköre usw. Die Ausgangsprodukte sind aus eigenem Anbau bzw. aus der Region; es werden viele Wildfrüchte und -kräuter verarbeitet. Des weiteren werden Hesselberger-Produkte (Apfelsaft, -schorle, Seccos usw) der Fa. allfra vertrieben. Es finden regelmäßig Veranstaltungen statt, z.B. Bärlauchtage im April/Mai, Rosenblütenfest im Juni, Adventsausstellung usw. Für kleine Gruppen werden auch Verkostungen angeboten.
Mi & Fr 9.00 - 12.00 Uhr
Sa 15.00 - 18.00 Uhr
und nach Vereinbarung
09854 1513
Javascript is required to view this map.
Verbindungen
Compare related sites, explore the related maps, find out about volunteering, how to get here and more. Soon, you will find ways to share this map here, too.
Every site using the same primary Icon on Open Green Map is automatically linked here. You can compare different approaches and solutions on this map and others around the world.
Andere Orte auf der Karte
Ähnliche Orte weltweit
Civic Center Park- Denver
Choose a connections category from the list on the left.
Auswirkungen
No impacts have been left for this site yet - be the first!