137 First Avenue
New York
NY 10003
135-137 First Avenue / 81-83 St. Marks Place, Block 450, Lot #33
Översikt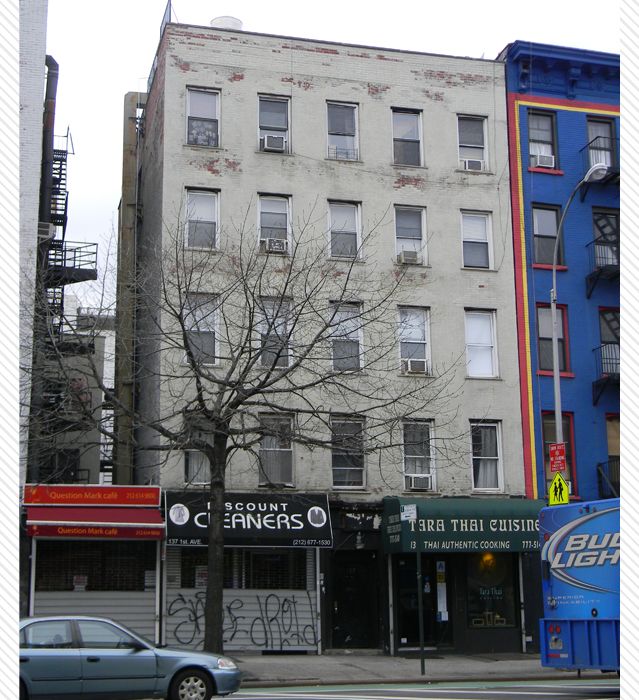 Current Use:
- Residential/Commercial 5 story building.
History:
- Unknown.
Overall Condition:
- Good overall condition;
- Corner lot, divided in the middle.
What is there:
- Tara Thai Cuisine;
- Discount Cleaners (shut down, Handmade Ice Cream Shop to open Summer 2013);
- Joe Dough Sandwich Shop;
- Iconic Hand Rolls (sushi shop) (natural products, responsibly sourced, healthy food, limit waste);
- Stromboli Pizza;
- Xian Famous Food (Western Chinese Cuisine);
- Apartments.
Javascript is required to view this map.
Kopplingar
Jämför relaterade platser, utforska de relaterade kartorna, ta reda på mer om volontärarbete, hur man kommer till en plats och mycket mer. Snart kommer du också att hitta sätt att dela denna kartan här.
Alla platser med samma primära ikon på Open Greenmap länkas automatiskt här. Du kan jämföra olika strategier och lösningar på denna karta och andra kartor runt om i världen.
Andra platser på denna karta
Relaterade platser i världen
Välj en kopplingskategori från listan till vänster.
Påverkan
Ingen påverkan har registrerats för denna plats än - du kan bli först!