144 Second Avenue
New York
NY 10003
144 Second Avenue / 306 East 9th Street, Block 450, Lot #8
Översikt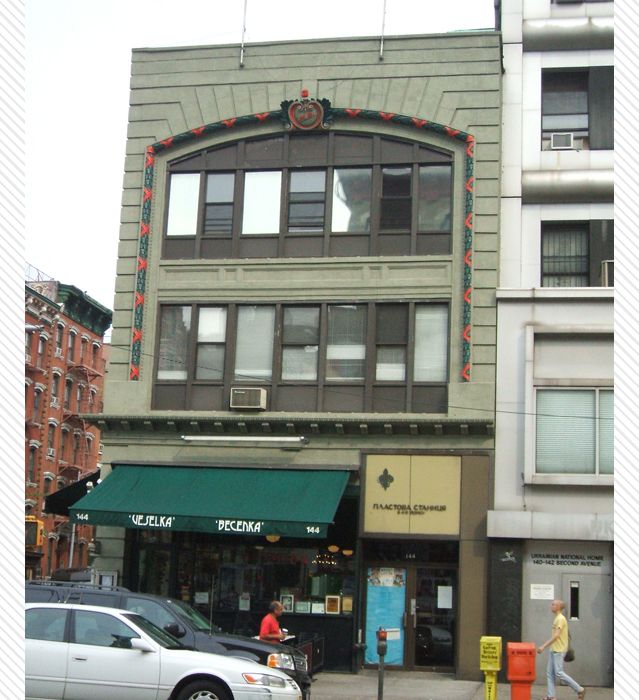 Current use: Commercial 3 high story building.
History:
- Original use: Movie theater;
- Built in 1914-1915 by Louis A. Sheinart (architect);
- Originally owned by Philip and Benjamin Menschel;
- Veselka Ukrainian Restaurant opened its doors at this address in 1954, and was owned and founded by Wolodymyr and Olha Darmochwal. It started as a humble neighborhood candy store and newsstand that had a small counter and a few tables where a small selection of Ukrainian food was served. The popularity of these homemade dishes helped Veselka to grow over the years to become a full fledged, beloved restaurant serving a wide variety of homemade Ukrainian and American dishes. Currently owned by the founder's son-in-law, Tom Birchard.
Overall Condition:
- Excellent overall condition;
- Interesting architecture and facade as you can tell it used to be a movie theater;
- Beautiful wall art on 9th street's side of the building;
- Beautiful mosaic work on the walls of the staircase inside the building;
What is there:
- Veselka Ukrainian Restaurant;
- Dinosaur Hill Handmade Wonderments (30 years old);
- Plast-Ukrainian Youth Organization
Javascript is required to view this map.
Kopplingar
Jämför relaterade platser, utforska de relaterade kartorna, ta reda på mer om volontärarbete, hur man kommer till en plats och mycket mer. Snart kommer du också att hitta sätt att dela denna kartan här.
Alla platser med samma primära ikon på Open Greenmap länkas automatiskt här. Du kan jämföra olika strategier och lösningar på denna karta och andra kartor runt om i världen.
Andra platser på denna karta
Relaterade platser i världen
Välj en kopplingskategori från listan till vänster.
Påverkan
Ingen påverkan har registrerats för denna plats än - du kan bli först!