3/F Unit 301, #3 Brixton St,
Brgy Kapitolyo,
Pasig City (just one of the many venues of Muni.PH events)
Muni.PH
Overview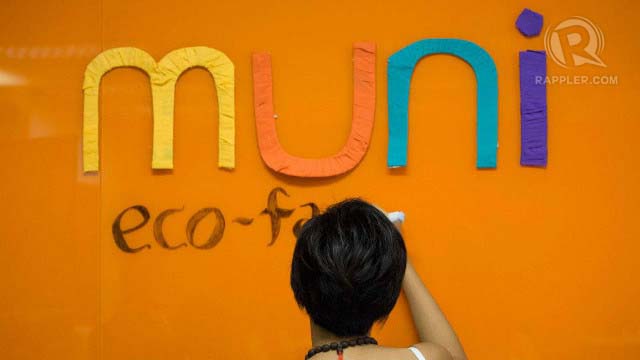 Series of collaboration and talks dedicated to sustainable fashion
"HABI LOVE: Using Philippine Textiles Everyday":
- Contemporary applications of Philippine textiles
- The importance of the preservation of Philippine textiles
- The current state of the industry
- What we can do (as consumers and producers) to energize the Philippine textile industry
Invited hangoutees:
- Rambie Katrina Lim of Tepiña / Tepiña fabric
- Olivia d'Aboville, textile designer and artist
- Anya Lim of ANTHILL Fabric Gallery
- Lenora Luisa Cabili of Filip + Inna
Muni comes from the Tagalog word "muni-muni", which means to think, ponder, muse or reflect.
Our aim?
To create a culture of awareness through creativity
To develop critical thinkers and progressive doers in society
To bridge like-minded individuals through offline events and collaborations
Muni hopes to give this generation of "Cultural Creatives" an outlet to do what they do best, be it writing, art, music, film, business, education or design, while sending out important messages that need to be seen and heard, and make others stop, think, ask questions, and start conversations.
What is a Cultural Creative?
Many entrepreneurs, writers, artists, musicians, alternative health care providers and other professionals fall under the designation of "Cultural Creative". These are individuals who value unconventional ideas, action, authenticity, community and positive change.
When these like-minded individuals come together, there is no doubt in our minds that great things can happen, and that we can move our own social circles, and then maybe our communities, and who knows, maybe even the world.
Read more
http://muni.com.ph/post/64647753574/on-october-22-tues-830-930pm-well-be...
Javascript is required to view this map.
Connections
Compare related sites, explore the related maps, find out about volunteering, how to get here and more. Soon, you will find ways to share this map here, too.
Every site using the same primary Icon on Open Green Map is automatically linked here. You can compare different approaches and solutions on this map and others around the world.
Choose a connections category from the list on the left.
Multimedia
Impacts
No impacts have been left for this site yet - be the first!